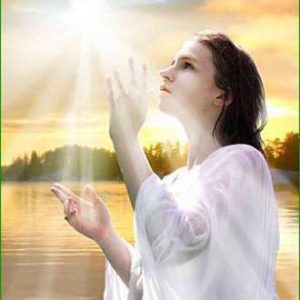 Recently I bought me some books, anthologies by female Christian mystics Mechthild of Magdeburg, Teresa of Avila and Marguerite Porete (as well as male Christian mystic Dionysius the Areopagite (although Dionysius probably also was a woman, since his true identity remains obscure – therefore s/he is also commonly referred to as Pseudo-Dionysius)). Mysticism strives for the unio mystica, the becoming one with deity through purification of personality (which is therefore often a nuisance to clerics, since it undermines the authority of the church as intermediary between man´s world and the divine: especially Mechthild had no easy life and Marguerite was sentenced to death by the Inquisition). Especially both Teresa and Marguerite were talking about stages of enlightenment, in the highest form the soul becomes a medium of divine perception. Teresa said, God can be understood as a diamond, greater than the entire world, where everything can be seen, and in which she happened to see herself and her actions at incredibly speed and heavily concentrated (leaving her a bit embarassed to see her noble deeds as well as her sins without any true distance from each other). Such a soul has been touched by the divine light. Yet, interestingly, both Teresa and Marguerite say that seeing the divine light is just a short flash, that may happen only once or a few times in life. Full unio mystica, i.e. becoming one with the divine light, is only possible after death, in this life the soul is to still remain in the body and to wander the earth, and also the fully developed mystic still remains, in parts, an earthly, human creature that is object of suffering and possible setbacks. – I am somehow relieved to hear that from such distinguished persons, since I was thinking that my own enlightenment was incomplete. Furthermore, I see there seems to be no use in expecting anything more than that, to achieve an entire clear (of complete balancedness): No hope = no fear. Bucke wrote in his book about Cosmic Consciousness about the white light, and also Colin Wilson wrote about it in The Outsider. Colin Wilson saw the white light too at a young age, and he said all his life has been a strive to bring back that moment. I also saw the white light when I was writing my second book, I thought, compared to the epiphanies described by those people mine was a weak epiphany, but I think indeed it was a higher one, since I am more rational than they are/were. Bucke said, of all the enlightened people in history Walt Whitman was the only true (highly modern) individual that did not fall prey or become an instrument of his divine perception, but rather turned it into an instrument for himself. I think I also remain in control (if I am not mistaken about my enlightenment at any rate). I called this form of enlightened perception the White Lodge, as readers of my convulsions may now know. (Dionysius the Areopagite spoke of God as a "dark light" that illuminates the earth, but that can be truly seen only through his absence to the obvious gaze. A deep bass I connect synaeasthetically with the headlight of this dark light).
White Light from the Mouth of Infinity is a major album by Swans. It combines the most outstanding songwriting, majestic elegy, triumphantly arranged, with extremely depressing lyrics. The cover is one the coolest I´ve ever seen. On the front you have a human rabbit, reaching out his carrot antenna at the end of the world, likely in search for someone else, his soulmate, his counterpart. On back you have him eventually have found him. I wrote to Jarboe many years ago and mentioned the album and the artwork, she was asking in return whether I want to purchase the original artwork "at a reasonable price". But I could not afford it anyway. In my apartment there is a poster of it, hanging on the wall nevertheless.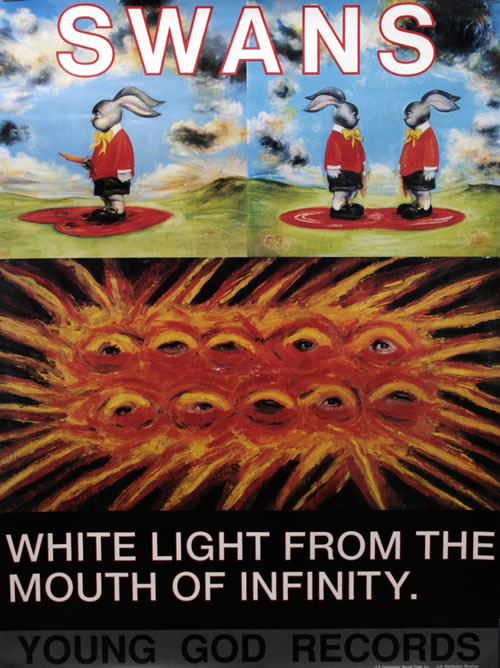 Wir wollen also sagen, die Gottheit sei wie ein überaus klarer Diamant, der weit größer ist als die ganze Welt, oder ein Spiegel nach der Art desjenigen, welcher in der früher gedachten Vision die Seele empfing, nur dass er auf eine weit erhabenere Weise sich zeigte; auf eine Weise, die ich nicht hoch genug vorzuführen vermag und dass alles, was wir tun, in diesem Diamanten gesehen wird, so gesehen wird, dass er alles in sich schließt, und weil es nichts gibt, was über diese Größe hinausgeht.
Staunenswert war es für mich, in so kurzer Zeit so vieles in diesem klaren Diamanten nebeneinander zu erblicken. Höchst bedauerlich ist es mir andererseits jedes Mal, wie so garstige Dinge, wie es meine Sünden sind, sich in jener klaren Lauterkeit ebenfalls darstellten. Gewiss, wenn ich daran denke, weiß ich nicht, wie ich es ertragen kann. Deshalb wurde ich auch mit Scham erfüllt, dass ich nicht wusste, wohin ich mich wenden sollte…
Teresa von Avila